Onçafari consists of an interdisciplinary team of biologists, veterinarians, field guides, psychologist, and even a former racing driver.
Meet some of our amazing team members, who are all passionate about what they do.
Executive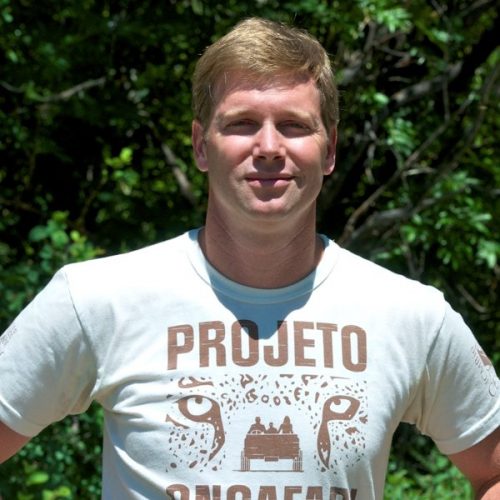 Mario was born in Sao Paulo, Brazil, and has had two abiding passions since childhood: racing cars and wildlife. After a long career of nearly 20 years in motorsport, with stints in Formula 1 and Formula Indy, he decided to dedicate himself entirely to wildlife conservation. He has traveled to various parts of the world in order to visit several animal conservation projects involving gorillas, tigers, polar bears, pandas, leopards, lions and more. Mario decided to establish Onçafari in order to conserve Brazil's biodiversity, and to assist in the development of local communities through ecotourism and science.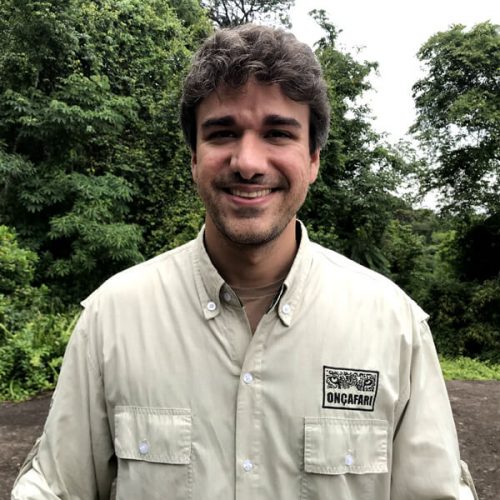 Leonardo is a psychologist who graduated from the Federal University of Rio de Janeiro. Leonardo has operated for over ten years in the Third Sector, which deals specifically with the issues of local development, employment and education. He also has extensive experience in the fields of management and product development. As director of Onçafari, his focus is on design and project management, as well as institutional relationships. He is also on the team of SOS Pantanal, which oversees a project of international cooperation.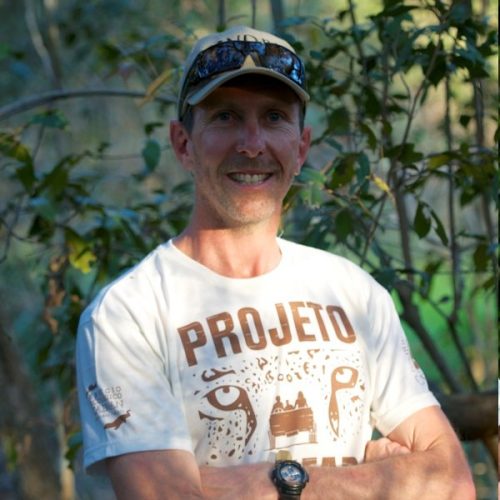 Simon was born in Zimbabwe, where, as a child, he became fascinated by nature. He started his career as a professional wildlife guide in South Africa, working for several major groups of small hotels that utilize ecotourism as a method of conservation. He has made significant progress in his career and now holds the most advanced certification in his profession in South Africa. After meeting Mario, they developed a plan together to promote ecotourism in Brazil. After several visits to the Pantanal, it became clear that for any plan to work it would be crucial to include jaguars.
Field Team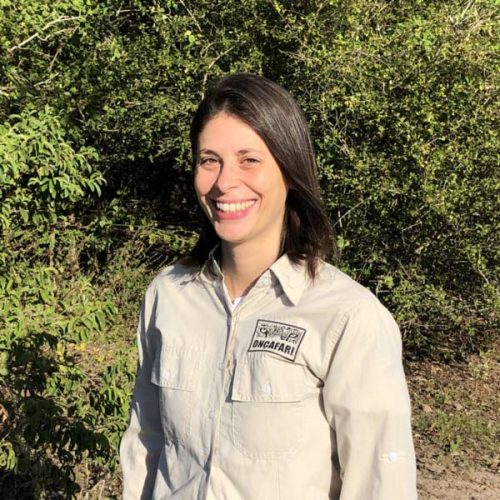 A 14-year-old biologist, she completed a postgraduate course focused on fauna management in 2007. She worked with captive fauna at the São Paulo Zoo and at the Wildlife Screening Center for approximately 7 years. He composed the team of a project that carried out feline surveys in the Serra do Mar, when he began his work with animals in free life. She has been working at Onçafari since November 2012 and acts as general coordinator, compiles information collected in the field, teaches lectures for guests, schools and companies, oversees several projects in which Onçafari is involved in addition to other functions performed in the office or in the field.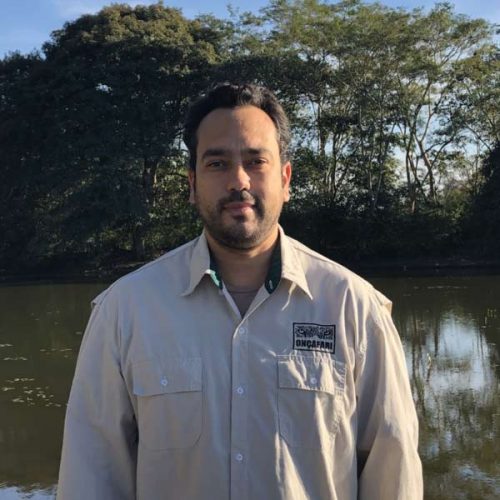 As a biologist and systems analyst, Leonardo began his career at the Zoological Park Foundation of São Paulo, working with environmental education and later with management of wild mammals. He complemented his management experience with animals in captivity, working at the Animalia Foundation (Wild Animal Screening Center). In 2011, he conducted monitoring of wild animals in the Serra do Mar between the states of São Paulo and Rio de Janeiro. He began his work at Onçafari in November 2012, performing habituation of jaguars and captures for monitoring. He is currently the coordinator of the sector of reintroduction of the big felines at Onçafari (rewild), Pantanal and Amazon.
He is responsible for the technical aspects of Onçafari (Pantanal, Amazon and Cerrado), including captures, tracking of jaguars, pumas, and coordinating with ICMBio – Ministry of Environment, the area where the animals will be released.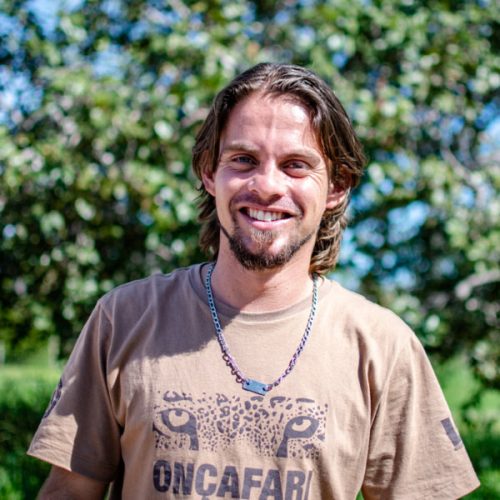 Born in Santa Catarina, Edu is a biologist graduated in 2014 from the State University of Ponta Grossa (PR). He is currently the coordinator of the Science front of the Onçafari and the project developed in the Cerrado. Since the beginning of his career, he has been focusing on research and conservation of mammals, with emphasis on top predators, such as jaguars, pumas and wolves. He joined the Onçafari team in 2015, working with photographic trapping, collecting, compiling and analyzing data, tracking and habituation of jaguars in the Pantanal and wolf guards in the Cerrado. He has a deep interest in ecology, behavior and strategies for the conservation of these species in free life.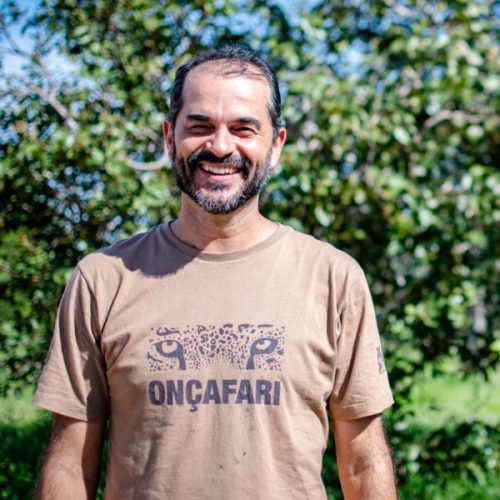 Joares Adenilson May Junior is the veterinarian responsible for captures and health monitoring of the animals at Onçafari. He graduated from Universidade Estadual de Santa Catarina (UDESC) in 1997, specializing in medicine and management of wild and exotic animals, with a Masters in Veterinary Epidemiology, Universidade de São Paulo, (USP). As professor at Universidade do Sul de Santa Catarina (UNISUL) in Tubarão (Sant Catarina), he has worked since 2003 on carnivore conservation projects in Brazil, Belize, Chile and Colombia.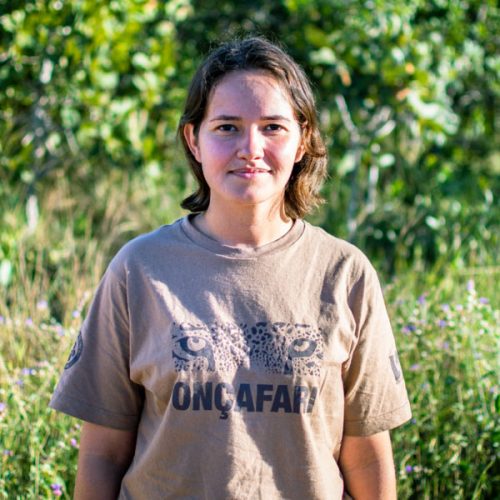 Valquiria is a biologist who graduated from the Federal University of Mato Grosso do Sul (UFMS). She interned in a survey project of bird species in the Pantanal and the Wild Animal Rehabilitation Center in Campo Grande (MS). After graduation, she worked as an environmental guide at Caiman Ecological Refuge, and later at the Space Institute Silvestre, where she was a project assistant in the reintroduction of purple-breasted-parrots in a conservation area in western Santa Catarina. She is currently part of the Onçafari team in the Cerrado, working with the monitoring and habituation of maned wolves.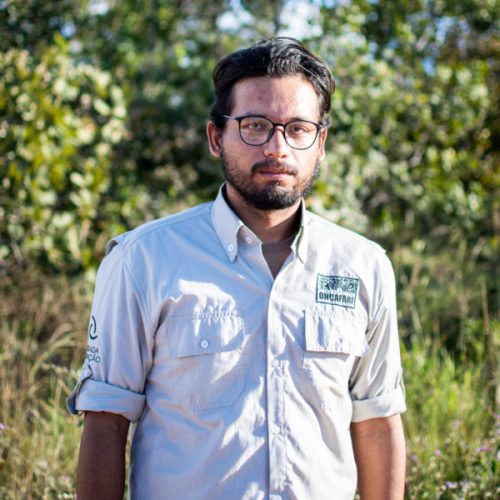 Wellyngton has been intrigued, from a young age, by nature and its ecological phenomena. In 2010 he enrolled in the Federal University of Mato Grosso do Sul (UFMG) to study biology. His experience includes working with reptiles, mammals and plants in the university, and, over the years, he has cultivated more interests, which took him to the Amazon for the completion of a master's degree. In 2018, he completed his Masters in Ecology at the National Institute for Amazonian Research (INPA). However, he still felt strongly about the Cerrado and Pantanal, and his appreciation of large mammals has increased. He joined Onçafari in early 2019, and today he works at investigating useful information for the conservation of Brazilian animal species, such as maned wolves and jaguars.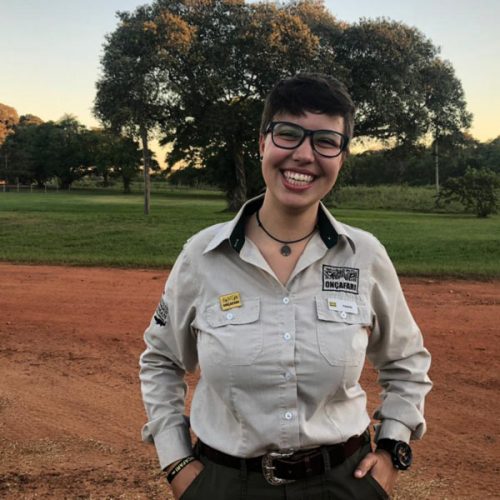 Victoria obtained a degree in Biological Sciences from the Paulista State University, "Júlio de Mesquita Filho" (UNESP). With fellows in different university extensions programs and experience on collegiate bodies, she developed a valuable background in interpersonal relationships. She has participated in several courses related to medium and large mammals, focusing her studies on the behavior and conservation of big felids (felidae), which will inform her graduate research with captive lions. Being part of the Onçafari team, and working directly with jaguars and other wild mammals is a great personal and professional achievement.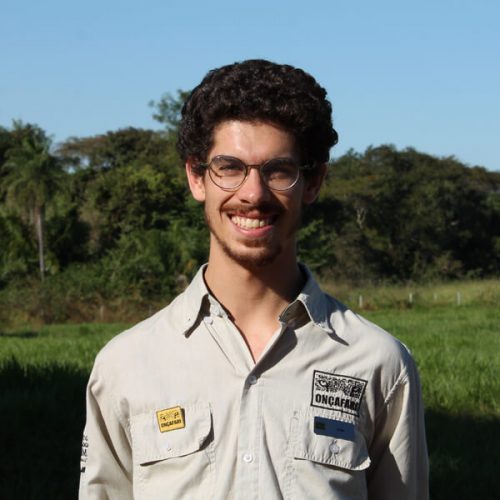 João is a biologist who graduated with a bachelor's degree from the University of São Paulo (USP). He served as environmental monitor in the State Park of the Anchieta Island, located in Ubatuba, São Paulo, with experience in serving the public, and dealing with issues related to the local flora and fauna. He took part in the scholarship program Science without Borders, and studied Management of Coastal Zones at Van Hall Larenstein University of Applied Sciences in the Netherlands, for one year. This experience helped him become fluent in English and allowed him to share his experiences and learning with students and teachers of different nationalities and cultures. His career and his passion for the diversity of Brazilian nature has provided him with the privilege of working face to face with the biggest predator of the Americas.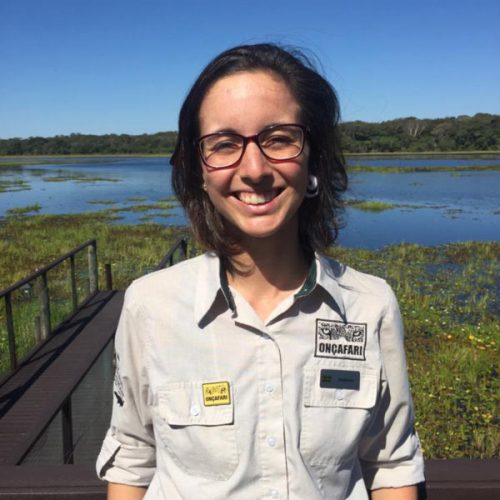 Stephanie has a BA in Biology from the University of São Paulo (USP). Her willingness to contribute to the conservation of biodiversity led her to become involved with internships, extension projects, and volunteering work in environmental education. She worked as a teacher in public schools, state museums and parks, and thus gained valuable experience while serving the public. In 2015, she took part in a one-year exchange program at the University of Canterbury in New Zealand, enhancing her English skills. She has also interned at the Municipal Wild Animal Screening Center of São Paulo (DEPAVE-3), working with the preventative monitoring of wildlife in the city. Today, she acts as a bilingual guide at Onçafari.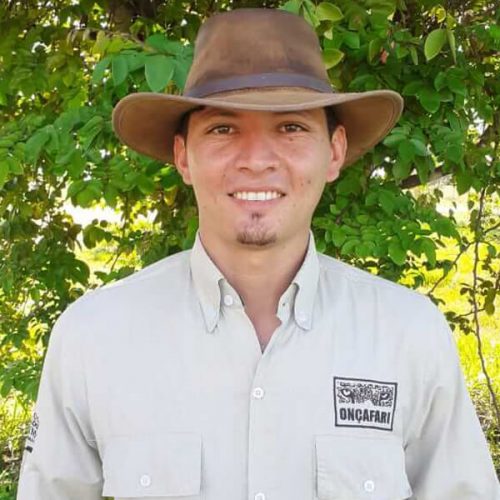 Born and raised in the Pantanal, Mario Nelson has worked as a field guide at Onçafari since 2015. The Pantanal is his home; he extremely thorough knowledge of the area. He also has experience with cattle management, having grown up watching his father and grandfather working in the fields. He was trained by African professionals, and even visited the continent to learn English in order to better communicate with foreign guests. He loves to guide and continues to learn new habits of the Pantanal fauna, particularly the majestic jaguar.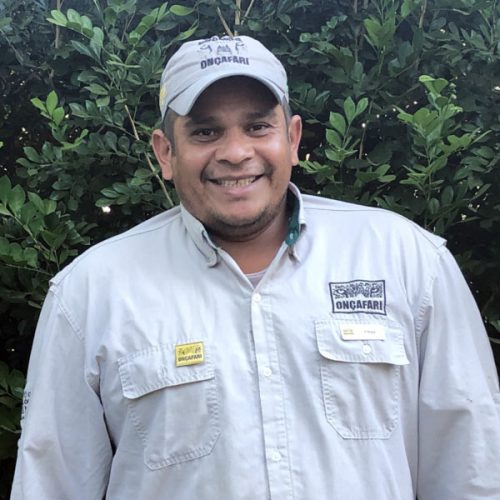 Chipa has worked for many years in the field. His many different skills include the following: he has handled cattle all over the Pantanal, worked as a tractor driver and even a boatman. His knowledge of the flora and fauna of the Pantanal is vast as he was born in the region. He joined the Onçafari team in 2018 and received training from African professional guides. He felt so fulfilled in his career that he decided to raise his family in Cayman. His daughter was born in the Pantanal in 2019 and will soon accompany him on adventurous journeys in search of the jaguar.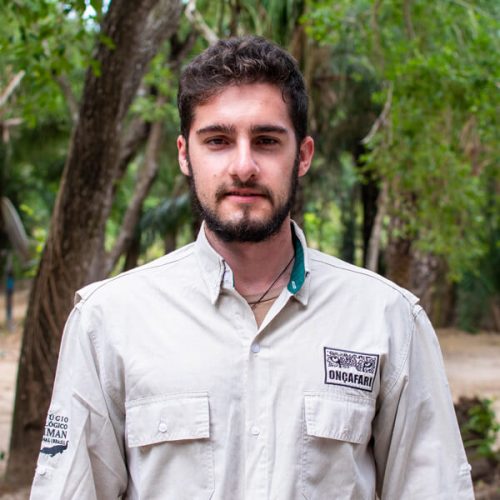 Gustavo, a biology graduate and a postgraduate in Management and Conservation of Wildlife, worked as a field biologist at Onçafari in 2014. He returned to São Paulo after this period to work in the management of urban parks and protected areas, and was one of the authors of the proposal to create the Wildlife Refuge of Anhanguera. Gustavo's experience includes the handling of snakes and felines. He is currently a co-founder of GreenBond, a company that provides advice on communication and fundraising for environmental conservation projects.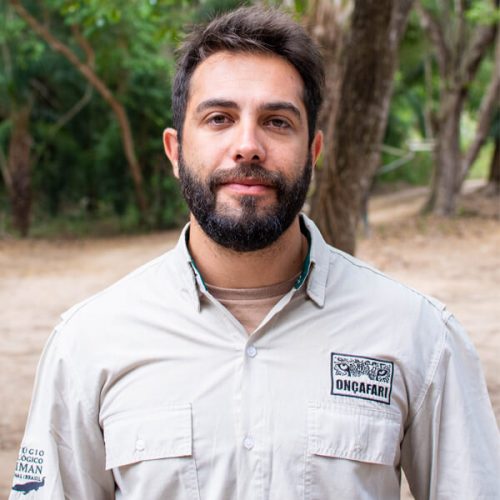 Born and raised in Sao Paulo, Diego graduated in veterinary medicine from the University of Santo Amaro (UNISA) in 2011. He then began his residency in herpetology at the Butantan Institute, and now specializes in wild animals. He has worked in sales and marketing on numerous occasions throughout his career and excels at finding great opportunities for specialization and management of conservation projects. He has a postgraduate degree in Business Management, Communication and Digital Marketing, and is currently a co-founder of GreenBond, a company that provides advice on communication and fundraising for environmental conservation projects.