Onçafari consists of an interdisciplinary team of biologists, veterinarians, field guides and even a former racing driver.
Meet some of our amazing team members, who are all passionate about what they do.
Executive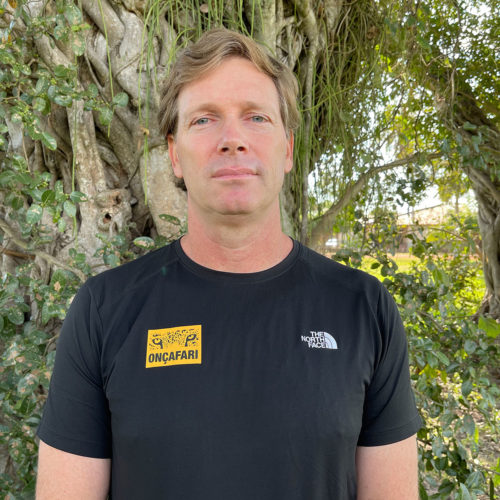 Mario was born in Sao Paulo, Brazil, and has had two abiding passions since childhood: racing cars and wildlife. After a long career of nearly 20 years in motorsport, with stints in Formula 1 and Formula Indy, he decided to dedicate himself entirely to wildlife conservation. He has traveled to various parts of the world in order to visit several animal conservation projects involving gorillas, tigers, polar bears, pandas, leopards, lions and more. Mario decided to establish Onçafari in order to conserve Brazil's biodiversity, and to assist in the development of local communities through ecotourism and science.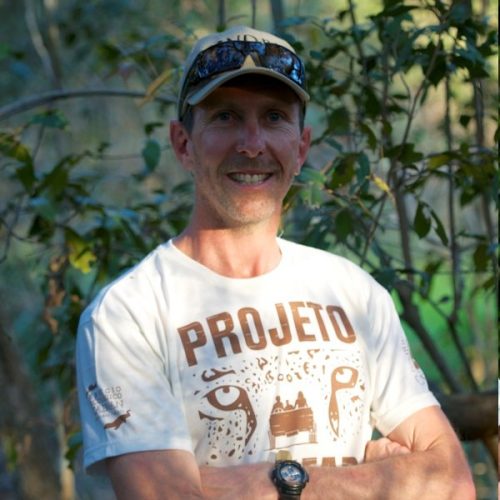 Simon was born in Zimbabwe, where, as a child, he became fascinated by nature. He started his career as a professional wildlife guide in South Africa, working for several major groups of small hotels that utilize ecotourism as a method of conservation. He has made significant progress in his career and now holds the most advanced certification in his profession in South Africa. After meeting Mario, they developed a plan together to promote ecotourism in Brazil. After several visits to the Pantanal, it became clear that for any plan to work it would be crucial to include jaguars.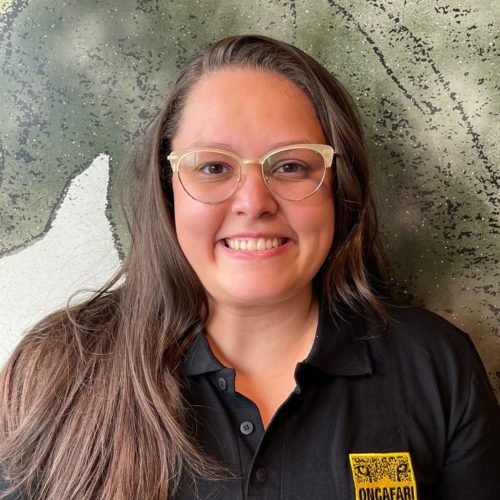 Paula's first contact with corporate finance occurred when she won a scholarship for administration at SENAC/SP, the academic institution and university Paula attended. This experience made an important difference and opened new job opportunities in the area, where she worked for six years in a project for training tennis players. There, she was responsible for the accounting area under the Brazilian Ministry of Sports. She has a passion for traveling, nature, and discovering new places. Additionally, her hobby is baking, which she also graduated with a degree for under the SENAC/SP institution.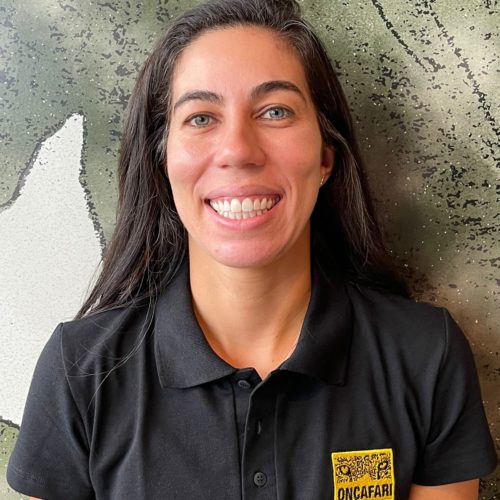 Lélia graduated in international relations from FAAP and continued her studies by completing a MBA in marketing at ESPM. She has more than 10 years of experience in the marketing sector by working for multinational corporations and continued her career as an entrepreneur for the last 5 years, where she started her own business. She is passionate about nature, loves traveling, practicing Yoga, and meeting new people. In 2017, she traveled to South Africa and attended a safari for the first time. After this incredible experience, she became even more devoted to promoting environmental conservation. Today, she leads the marketing team at Onçafari.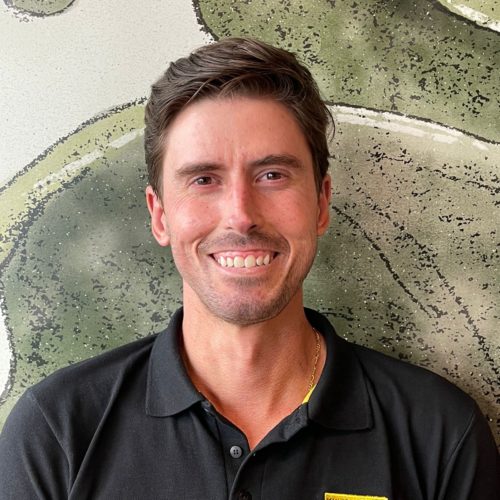 Since his childhood, Germano has been immersed in the world of sports. He started playing tennis at the age of 5 and continued to follow his passion until he graduated in Business Administration with a concentration in finance at Winthrop University/USA, where he attended college as a student athlete. In 2014 he completed his MBA in Global Management from Thunderbird School/USA. Germano has more than 10 years of experience in the financial and administrative areas, working in Brazilian and American companies. Acting in financial planning, strategic development, identification of business opportunities, and combining management to achieve organizational goals, he followed a career based on his passion for sports, but moved on from a career in athletics to one in sports management. Now, he enters the new and exciting world of biodiversity, where he has developed a passion that has grown to be stronger ever since he joined Onçafari.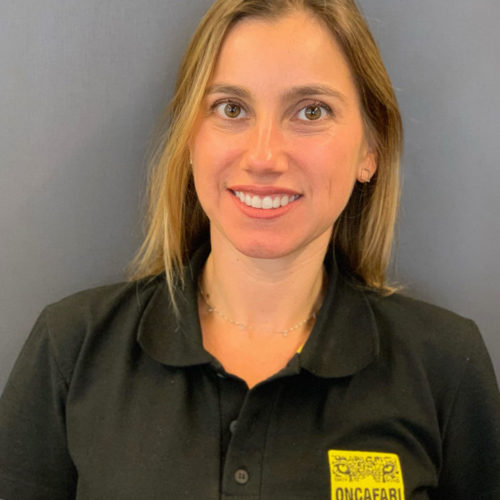 Graduated in business administration by PUC-SP, worked in renowned companies, both national and international, where for 15 years developed business strategies, led big brands, promoted innovations and product launches, and managed relevant communication campaigns. Her passions are: her family – being married with 3 sons -, nature and traveling. And so it was, in one of her trips with her family to Pantanal, she was charmed by Onçafari. Juliana joined us as a management, strategy and marketing consultant.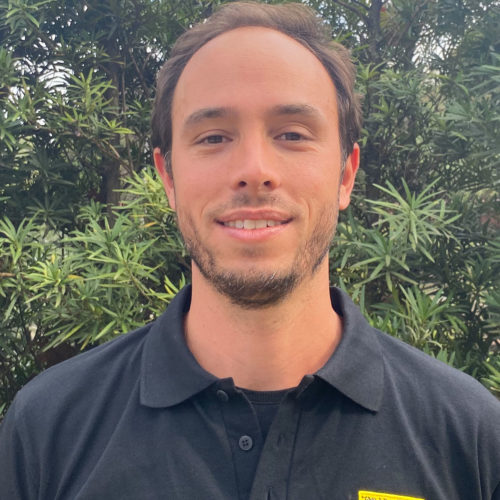 João was born in São Paulo and from the very beginning felt passionate for environmental and social issues, mainly influenced by his father and mother, who dedicated their careers to support environmental justice in Brazil. He graduated in biology in 2006 (São Paulo University, USP), and since then is dedicating his time to push the environmental agenda, with focus on biodiversity conservation, animal protection and other related positive issues, in different Brazilian biomes. In 2010 he concluded his master's course (USP), demonstrating the negative effects some substances and pollutants produce against flora and fauna. Between 2010 and 2017 he worked for the environmental consulting sector as leader of environmental and social projects, overseeing fauna, flora and protected areas. In 2018 he started his journey in the nonprofit sector, by the time as the wildlife manager at the international organization World Animal Protection (WAP), when he led projects and campaigns to transform the tourism industry and ensure responsible wildlife experiences. In recent years João has worked as WAP executive director, representing the NGO in the Brazilian market. João started in Onçafari in August 2022, as the operations director.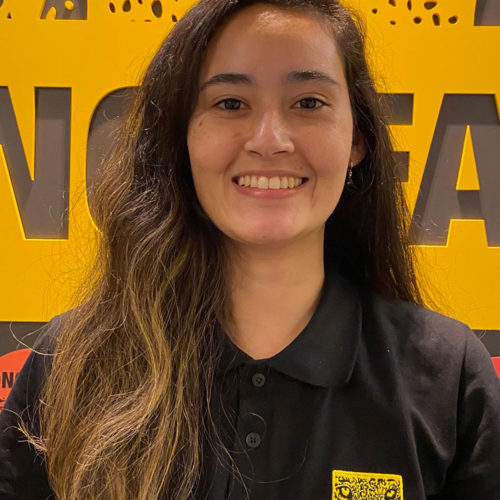 Amanda is a biologist and educator graduated from Universidade de São Paulo (USP), showing great interest in biodiversity conservation, education and scientific diffusion. During graduation, she was a part of several university extension projects for grade school students and a volunteer in scientific diffusion projects through podcasts and videos, being part of script writing to editing episodes. Being a part of Onçafari is a great achievement for Amanda and an important opportunity to unite science, education and audiovisual production towards the goal of environment conservation.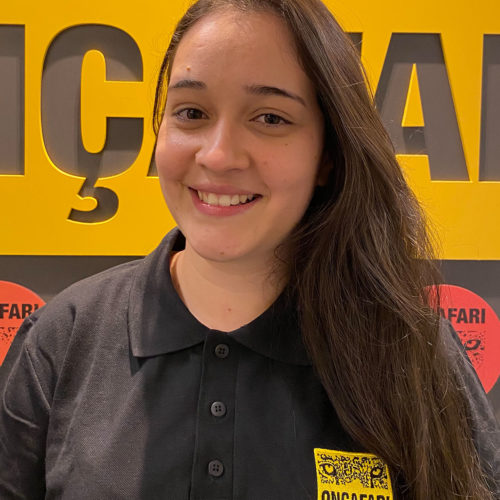 Graduated in business administration by Universidade Presbiteriana Mackenzie with a 100% scholarship, accomplished her dream to work in a Big Four, being for 4 years in the area of technical and accounting for external audits in PwC, where she developed technical and interpersonal abilities.
Did a digital marketing course where she learned to sell digital products through social media advertising and did small works as a Freelancer creating content for blogs with distinct niches. Her hobbies are playing piano, reading and cooking. She loves to travel, observe and capture landscapes. She found in Onçafari a great opportunity to contribute, even indirectly, to environment conservation.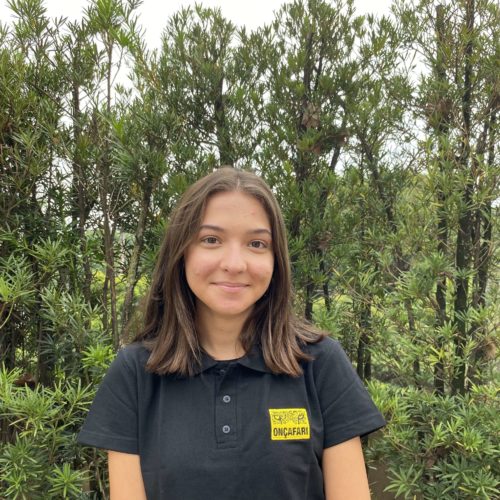 I am in the 5th semester of B.A. in advertising. My goal has always been to work for a cause which brings a positive impact in the world, especially through nature. I have a passion for felines, from my house cat to the jaguars of Amazon, and that's why there is no better place for me to work than Onçafari.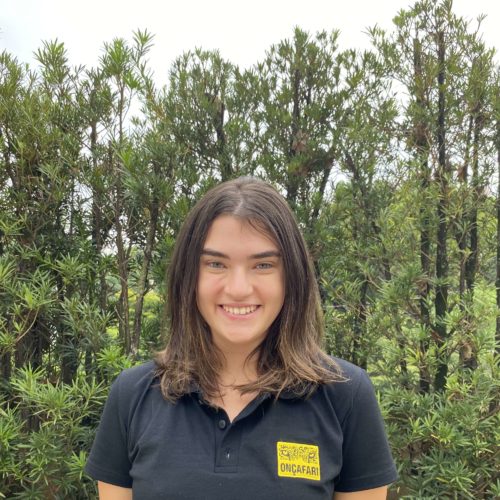 Student of Communication and Advertising in ESPM and very interested in marketing. For the first years in the faculty, she was one of the leaders in a student volunteering agency engaged in projects towards the democratization of education and sustainability. Passionate about animals, sports and nature, she saw in Onçafari a job opportunity contemplating all of her interests and beliefs.
Field Team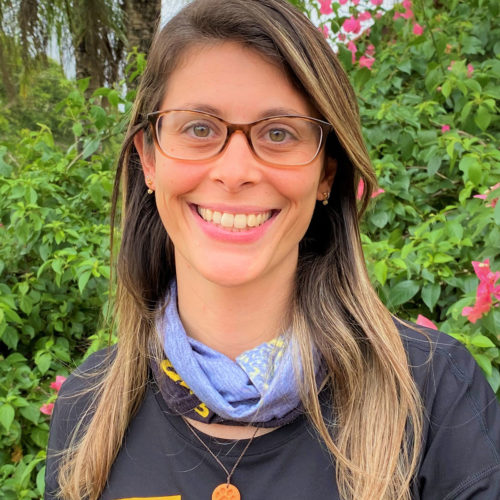 Graduated in Biological Sciences in 2005 with focus on wildlife management and conservation, Lili always aimed to work with animals. She had her first work opportunity at São Paulo's Zoo, where she worked researching small cats as a junior biologist. She also worked on a wildlife rescue center before deciding to broaden her wild cat population knowledge, which took her to the Atlantic Rainforest in Brazil. She's been a member of Onçafari 's team since 2012 and coordinates the team on the ground, organizes all the data that is collected and gives presentations, among many other activities in the office and on the field.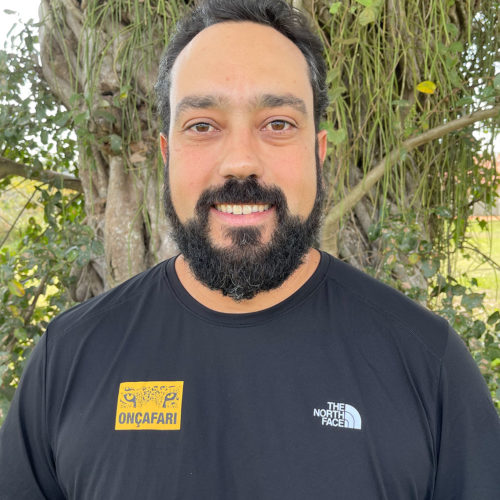 Leonardo started his career as a biologist in 2004 working with clinical pathology. In 2006 he joined the team of Sao Paulo's Zoo as an environmental educator and wild mammals' management staff. He improved his skills with wild animals in captivity working in "Fundação Animalia" rescue center. Leo also monitored wild animals in the Atlantic Rainforest mountain chain between the states of Sao Paulo and Rio de Janeiro. He joined Onçafari in 2012 helping in the habituation of jaguars and in capture campaigns for monitoring jaguars health status and behavior. Leo now coordinates the Rewild Centers of Onçafari, both in Pantanal and Amazonia, and also monitors the jaguars from Para State with the support of the Brazilian Air Force (FAB - Força Aérea Brasileira) in one of our bases, located in Pousada Thaimaçu. He is the technical responsible person for reintroduction, capture and monitoring of jaguars and pumas in face of Cenap/ICMBio.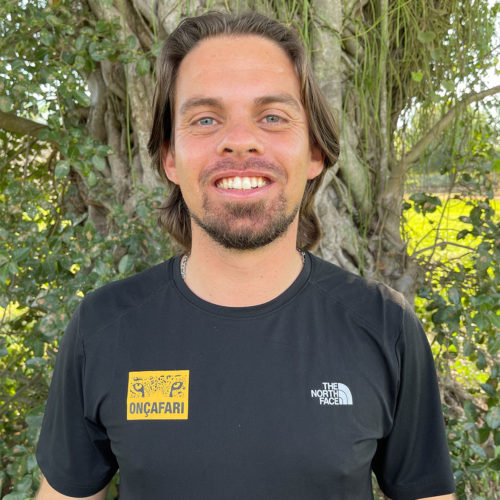 Born in Santa Catarina, Edu is a biologist graduated in 2014 from the State University of Ponta Grossa (PR). He is currently the coordinator of the Science front of the Onçafari. Since the beginning of his career, he has been focusing on research and conservation of mammals, with emphasis on top predators, such as jaguars, pumas and wolves. He joined the Onçafari team in 2015, working with photographic trapping, collecting, compiling and analyzing data, tracking and habituation of jaguars in the Pantanal and wolf guards in the Cerrado. He has a deep interest in ecology, behavior and strategies for the conservation of these species in free life.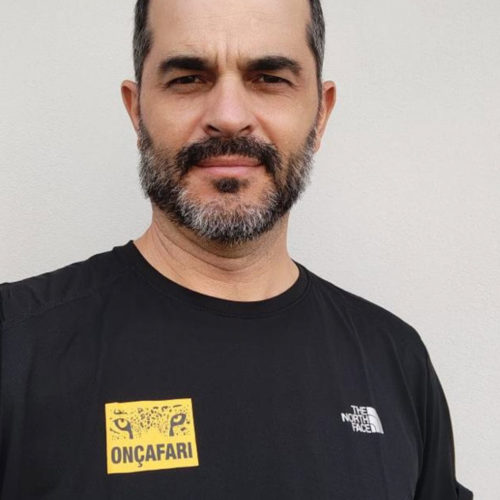 Joares Adenilson May Junior is the veterinarian responsible for captures and health monitoring of the animals at Onçafari. He graduated from Universidade Estadual de Santa Catarina (UDESC) in 1997, specializing in medicine and management of wild and exotic animals, with a Masters in Veterinary Epidemiology, Universidade de São Paulo, (USP). As professor at Universidade do Sul de Santa Catarina (UNISUL) in Tubarão (Sant Catarina), he has worked since 2003 on carnivore conservation projects in Brazil, Belize, Chile and Colombia.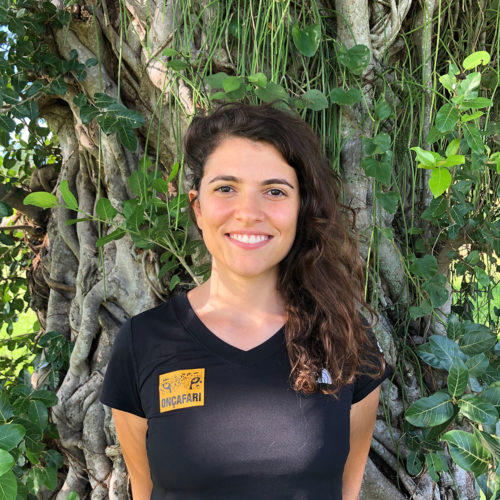 Bia is a biologist graduated by the São Paulo State University "Julio de Mesquita Filho". In 2020 she obtained a master's degree in Plant Science by the same University. There she was able to study and deepen her knowledge on community pollination. The wish to share about the beautys in biology and beliefs on a worldwide change made her engage into education projects. That also led her to work as a guide in different projects and also with ecotourism. Since 2013, when she first experienced the wonders of the Mato Grosso do Sul state, she wanted to work there. In that way, being a part of the Onçafari crew gathered both her personal and professional expectations.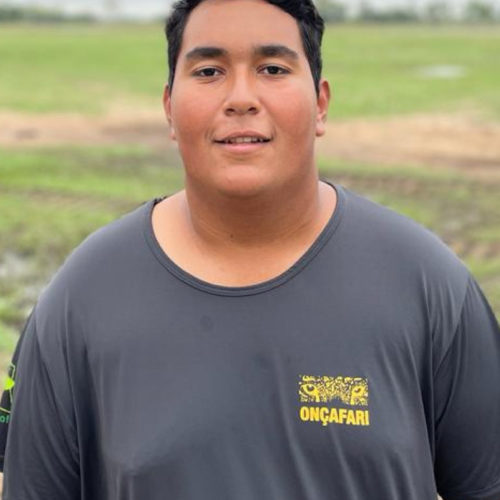 Born and raised in a farm which worked with rural tourism, in Miranda-MS, since I was a kid I've really liked nature and had a great interest in getting to know the fauna and flora "pantaneira". In my adolescence, I found my passion for birds and photography and started guiding tours in Delta do Salobra, Pantanal. In 2022, I started my graduation in biological sciences and had the great opportunity to join team Onçafari, where I work as field guide and assistant in Centro de Reintrodução de Animais Silvestres (Reintroduction Center for Wild Animals).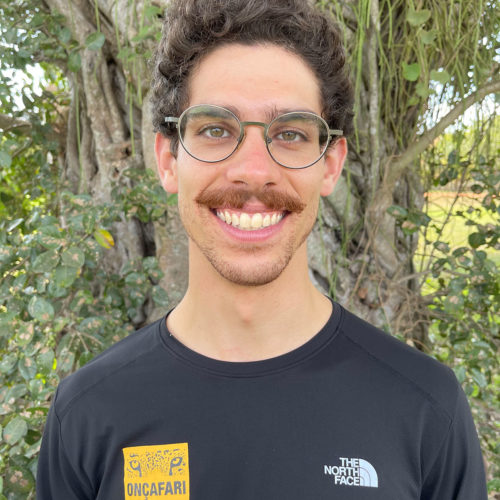 João is a biologist who graduated with a bachelor's degree from the University of São Paulo (USP). He served as environmental monitor in the State Park of the Anchieta Island, located in Ubatuba, São Paulo, with experience in serving the public, and dealing with issues related to the local flora and fauna. He took part in the scholarship program Science without Borders, and studied Management of Coastal Zones at Van Hall Larenstein University of Applied Sciences in the Netherlands, for one year. This experience helped him become fluent in English and allowed him to share his experiences and learning with students and teachers of different nationalities and cultures. His career and his passion for the diversity of Brazilian nature has provided him with the privilege of working face to face with the biggest predator of the Americas.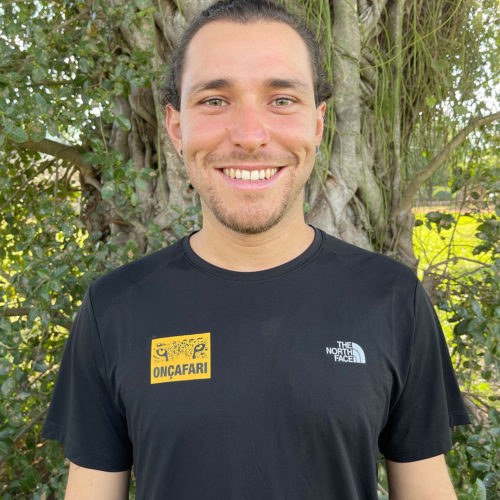 Biologist graduated at University of São Paulo (USP), Pedro has always been interested in biodiversity conservation and worked at marine conservation units and with endangered species throughout his career. During university graduation he did an internship in Australia where he studied for one year at the University of Queensland in Brisbane, deepening his knowledge on biodiversity conservation. Being a member of Onçafari's team, studying the biggest cat of the Americas, and sharing his passion by guiding guests is an important personal and professional achievement for him.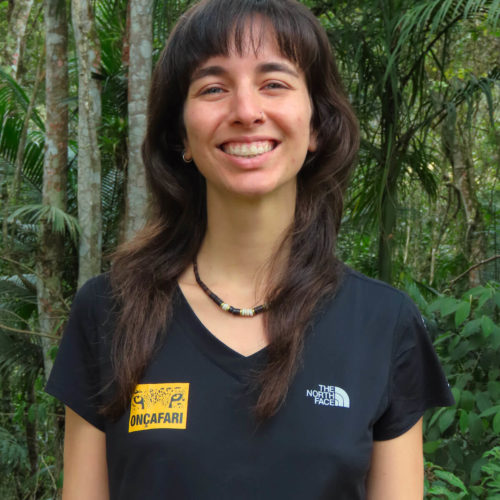 Biologist with bachelor and teaching degree from Universidade de São Paulo (USP), gathered experience from internships and voluntary work related to conservation and environment education, her fields of interest. Did an exchange program in University of Canterbury, New Zealand, where expanded her knowledge on these subjects and worked as a volunteer in a local NGO. Did an internship in Divisão de Fauna Silvestre (Wild Fauna Division) de São Paulo, and developed research on the human-fauna interactions in the city. In love with what she does, she believes that environment conservation and social change must go hand-in-hand. In Onçafari since 2019, today she supervises the Social Branch and NGO operations in one of the Atlantic Forest bases.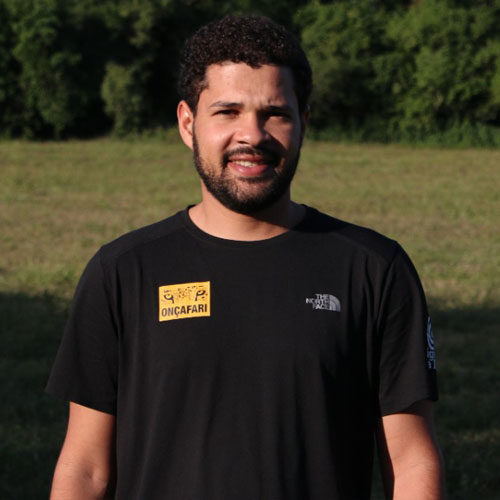 Biologist graduated in the Federal Institute of Brasília (IFB), Fábio is native from Miranda-MS, in the Pantanal area. He joined the Onçafari team in 2021 to work with camera traps, data sampling, tracking and habituation of jaguars in the Pantanal. He is interested in ecology, animal behaviour and conservation.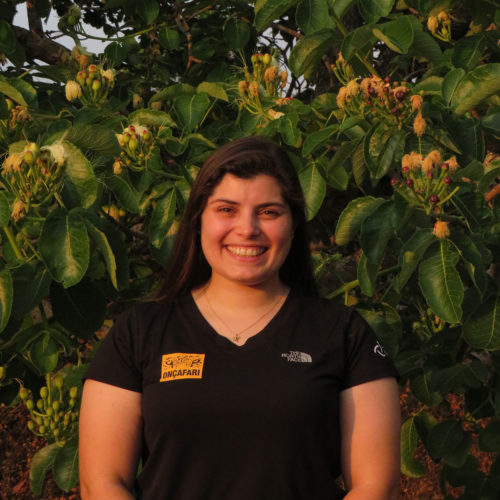 Biologist graduated from Mackenzie Presbiterian University and Postgraduate in Animal Law. Giulia also worked as a volunteer at the Management and Conservation Center of Wild Animals (CeMaCAS) of the City of São Paulo in the Clinical and Nursery sectors in the daily care of rescued animals. Currently, she works as a bilingual biologist guide at the base of the Cerrado, collaborating with the conservation of brazilian fauna.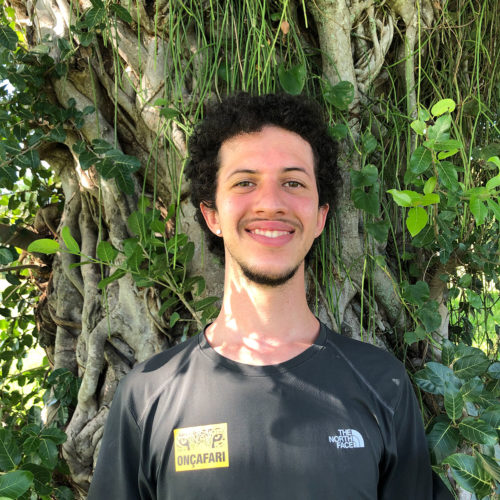 Since a young age, Rodrigo was always passionate about nature and animals in general, which resulted in him becoming a biologist. Graduated as bachelor in biology (2018) at Paulista University (UNIP) and post-graduated in Biodiversity and Conservation (2020), Rodrigo worked for 6 years at Associação Mata Ciliar's rewild center, where he got experience in animal wealth in captivity and environmental enrichment. As a biologist, he performed environmental education activities, lectures, animal handling classes and worked at the wildlife department, providing consultancies about wildlife, rescuing, rewilding and releasing wild animals. He always had a big admiration for Brazilian fauna and pantanal have some heavyweights in this area, like jaguars, giant anteaters, anacondas and caimans. When the chance to live near these animals and work with them came, he didn't think twice to join the Onçafari team so he could share his love and admiration for pantanal with the tourists who come to visit the biome.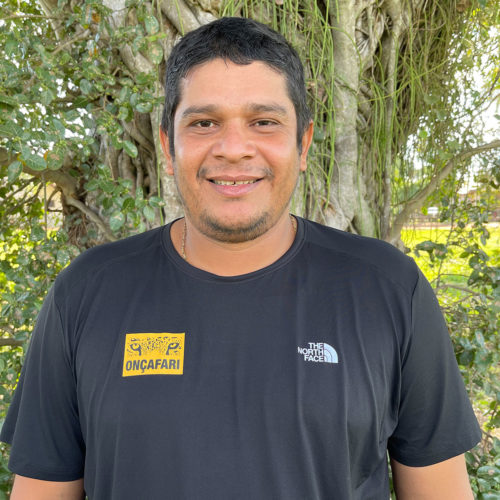 Chipa has worked for many years in the field. His many different skills include the following: he has handled cattle all over the Pantanal, worked as a tractor driver and even a boatman. His knowledge of the flora and fauna of the Pantanal is vast as he was born in the region. He joined the Onçafari team in 2018 and received training from African professional guides. He felt so fulfilled in his career that he decided to raise his family in Cayman. His daughter was born in the Pantanal in 2019 and will soon accompany him on adventurous journeys in search of the jaguar.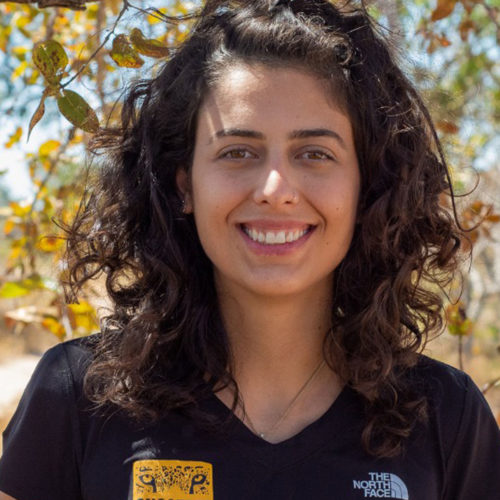 Biologist graduated in Universidade Federal de Minas Gerais (UFMG), having done one year in an academic exchange in Leeds University, in England where she improved her knowledge in ecology. Her profound interest in contributing to conservation and dissemination of biodiversity brought her to work in distinct fields, like environmental advising, in conservation projects for endangered species, as a naturalist guide in Pantanal and a volunteer in Conversation Units. In Onçafari she worked as a bilingual guide in Caiman base in Pantanal, and as coordinator in Legado das Águas base in the Atlantic Forest. Today she coordinates the team in Trijunção base, in Cerrado. For Bárbara it is a great accomplishment to be able to work in Onçafari with large wild carnivores, specially with maned wolves in the hearth of Cerrado.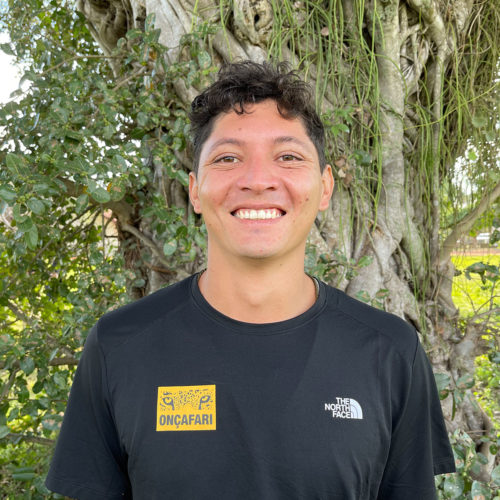 Born and raised in the Pantanal, Mario Nelson has worked as a field guide at Onçafari since 2015. The Pantanal is his home; he extremely thorough knowledge of the area. He also has experience with cattle management, having grown up watching his father and grandfather working in the fields. He was trained by African professionals, and even visited the continent to learn English in order to better communicate with foreign guests. He loves to guide and continues to learn new habits of the Pantanal fauna, particularly the majestic jaguar.
Since graduated as a Biologist at Federal University of Bahia in 2011, Diogo has been working as a nature guide in the Pantanal. He joined the team in 2012 as a guide, biologist and tracker. Through his career he increased his experience as a guide leading trips to various other areas in the Pantanal, but the partnership never faded. Together with Onçafari, Diogo underwent animal tracking skills training and, more recently, has attended a 2-months long nature guide course in South Africa. Today, he is responsible for the guide's selection and training season for both Onçafari and Caiman Ecological Refuge. Now, in 2021, he is heading the Tapirapé Project, a new pioneering joint effort between Caiman Ecological Refuge and Caiman to monitor and habituate tapirs. Our aim is to extend the success of the jaguar habituation work to the largest land mammal in Brazil, and for that Diogo spends his days tracking and trying to understand these amazing creatures.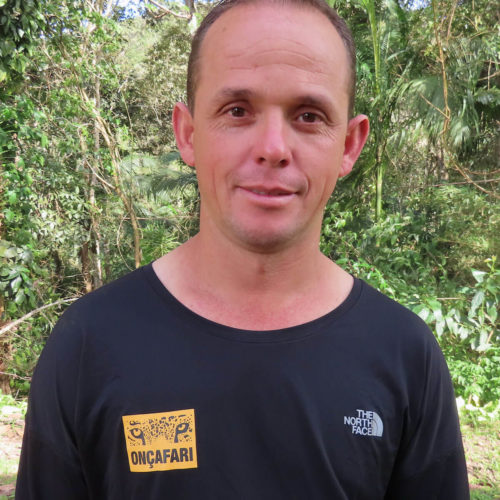 At the start of my professional career, I worked in restaurants as well as metallurgy. In 2015, I married and moved to a community close to Legado das Águas reserve. There I've had the opportunity to work with Pró-Carnívoros for a year, increasing my knowledge on local fauna and flora. In 2019, worked as an environment monitoring agent, being responsible for monitoring all the reserve area, while patrolling on the trails. And in 2022, I've had the opportunity to join team Onçafari as a field guide.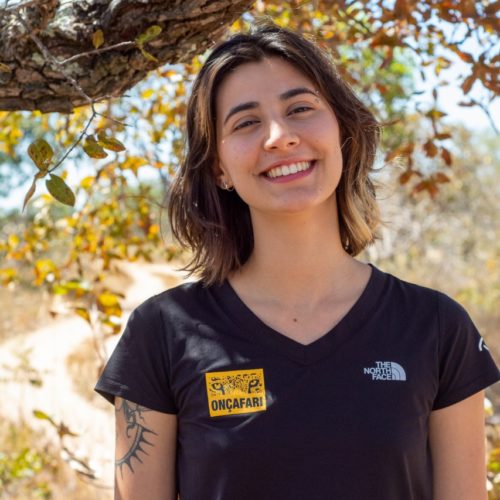 Biologist graduated from Universidade Presbiteriana Mackenzie and from the beginning of the course, volunteered in ICMBio in Chapada dos Guimarães, awakening the passion for Cerrado, and choosing to work towards this biome conservation. Since then, worked for two years as environment monitor in Parque Ibirapuera, in São Paulo Secretaria do Verde e Meio Ambiente (UMAPAZ), where expanded her abilities with the public and as a guide, besides doing academic and social work. Was an intern in laboratório de Ecologia Vegal (laboratory for Plant Ecology) in Instituto de Biociências – USP, developing an educational game on exotic and invasive species in Cerrado. Studied the effects of forest fragmentation in Cerrado on population distribution of Wolf Fruit (Solanum Lycocarpum St Hil.) in Brazil, presenting the results in Congresso Nacional de Botânica (Botanics National Symposium) in 2021.
Nowadays, Isabela works as a Biologist and bilingual Guide, achieving the goal of living in the heart of Cerrado monitoring Maned Wolves, contributing to biodiversity conservation and sharing with people all this love for nature.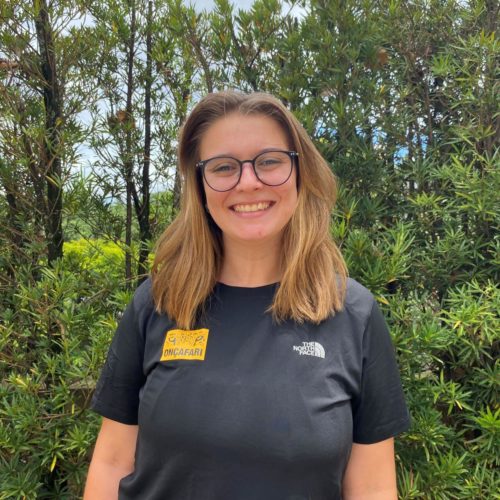 Gabriela has a bachelor and teaching degree in Biological Sciences from Universidade de São Paulo (USP). During the graduation she was an intern in Centro de Manejo e Conservação de Animais Silvestres (CeMaCAs), where she had her first experience working with wild animals. She also did field activities in avifauna and mastofauna monitoring. Has a master's degree in Ecology from Universidade Federal do Rio de Janeiro (UFRJ) in 2022, in which she investigated the diet and conservation of the Brazilian tapir. She works as a field biologist with emphasis on camera trap monitoring. In her view, it is a great satisfaction to be able to apply her experience in a project on behalf of biodiversity conservation.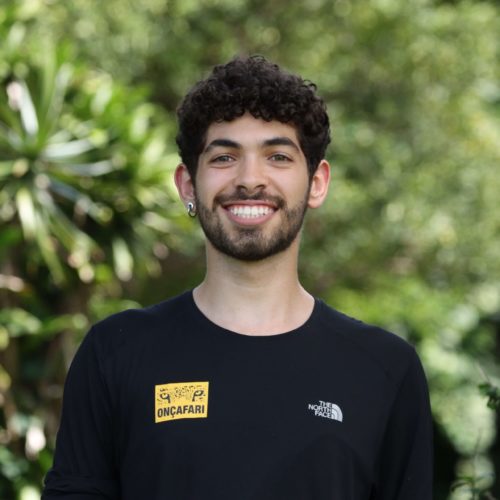 Born in Goiania (GO), Marcos is a biologist who graduated in Universidade Federal de Goiás. From the beginning of his graduation started developing research projects with mammal ecology in Cerrado, was a class monitor for 2 years in Zoology disciplines, founded the Forensic Sciences Academic League (Liga Acadêmica de Ciencias Forenses) and was a member of Laboratory of Theoretical Ecology, Metacomunities and Landscape Ecology (TheMetaLand). After his graduation he worked as an environmental consultant, performing surveys and fauna monitoring with mammals. He developed activities related to Fire Ecology as a volunteer researcher in Centro Nacional de Pesquisa e Conservação de Mamíferos Carnívoros (CENAP) from ICMBio. Passionate about Brazilian biodiversity and willing to be close to nature, today, working as a Bilingual Guide in Onçafari, he is fulfilling a lifelong dream with a smile on his face and a happy heart in order to help preserve all life on our planet.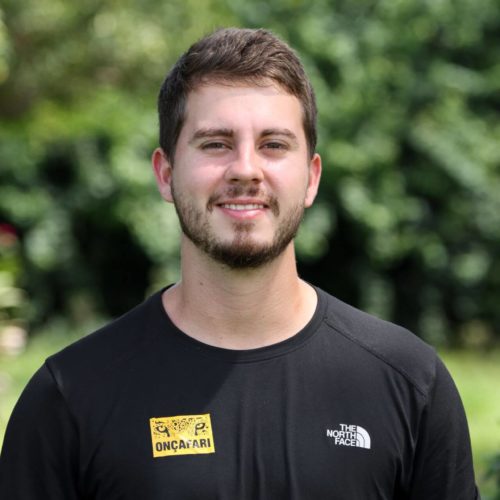 I am a biologist who graduated with a bachelor and teaching degree by Universidade Federal de Juiz de Fora (UFJF) in 2020. I was always the type of biologist passionate about being on the field, who likes to be surrounded by nature and animals. In 2016 I was in an exchange program in Perth, Australia. I've worked in several fields in Zoology, with a focus on Ornithology, having experience with observations, acoustic and visual census of birds. Between 2018 and 2020 I've worked as an Environment Teacher in the Botanic Garden of UFJF, receiving and guiding schools and tourists, as well as participating in the development of projects towards environment education and scientific dissemination. It was there where I discovered that I wanted to work showing the wonders of our fauna and flora to the public. Onçafari turned up to be the perfect opportunity to work with what I love.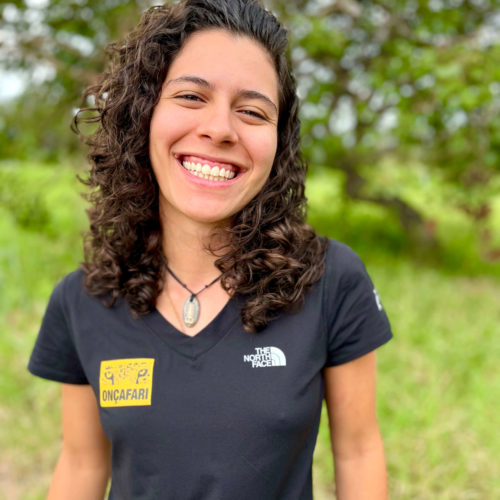 Born and raised in Brasília, in the center of Cerrado, she always had a great appreciation for nature and the wildlife of the biome. Was a volunteer in a zoo and reserve in South Africa, a time in which her passion for large mammals and their conservation greatly increased. She graduated in Biology in Universidade de Brasília (UnB), where she was an intern for 4 years in Laboratório de Fauna e Unidades de Conservação (Fauna and Conservation Units Laboratory), focusing in herpetology in Cerrado. In this internship she learned a lot about the large diversity of anurans and their biological importance, and studied the importance and the necessity for the conservation of this biome. During the graduation she worked in an extension project with focus on environment education for the schools in Alto Paraíso in Goiás, GO. With the increasing desire to work with the conservation of the most biodiverse Savannah in the world, it's a great accomplishment to be part of Team Onçafari, contributing with the preservation of Maned Wolves, an animal intimately related with this biome.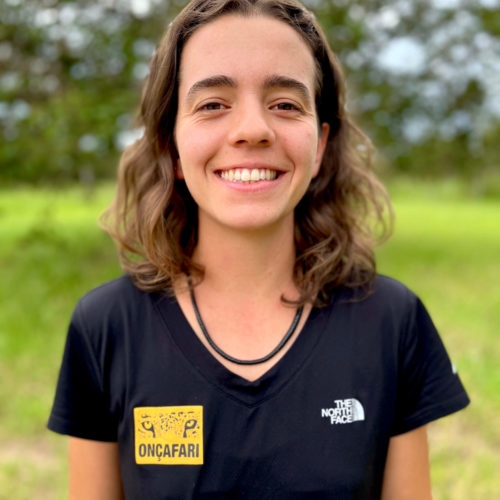 Born in Ilhabela/SP, where she fell in love with nature and became aware of the need of biodiversity conservation and the importance of ecotourism for that end goal. She graduated in Biology, with the purpose of collaborating to the healthy maintenance of ecosystems.
She was involved in research projects and actions for sustainable agriculture and that's why, at the end of the graduation, enrolled in a master's degree in ESALQ/USP with the objective of comprehending the use of microorganisms as an alternative for pesticides.
After this experience, her desire for working directly with biodiversity conservation has awakened. That's why she decided to live near wildlife, to learn with masters of Cerrado, like maned wolves, and exchange lessons with those visiting the biome. With great satisfaction, she works as a bilingual guide and biologist in the base Trijunção, in Cerrado.
Consulting board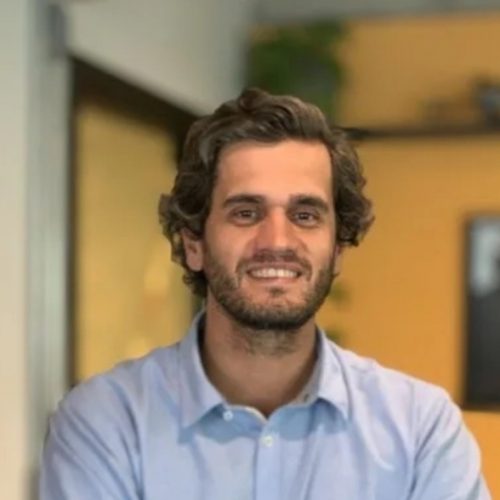 CEO and founder of Pandhora along with Isaias Lopes. Bachelor degree in Economics from Mackenzie University and Business Administration by Fundação Getúlio Vargas. His professional career was built in many institutions (such as Mauá Capital and Pactual) and he was founding partner of Brasil Capital. Alexandre began his career at Cannel Capital, San Francisco. This business executive is closely involved with environmental preservation, which includes being head of SOS Pantanal and counselor of Onçafari, among many other organizations.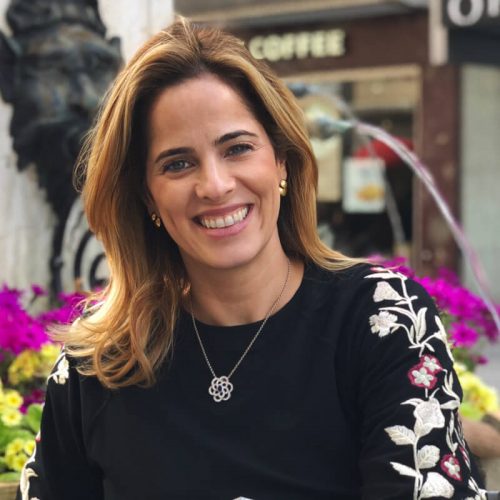 Bachelor's degree from Economics. Dedicates herself to developing travel itineraries specialized in unique experiences. Proud mother of 2 children, Roberto and Mariana. One of her greatest pleasures in her job is to present the Pantanal to her keen clients, and observe how they fall in love with nature, just as she did.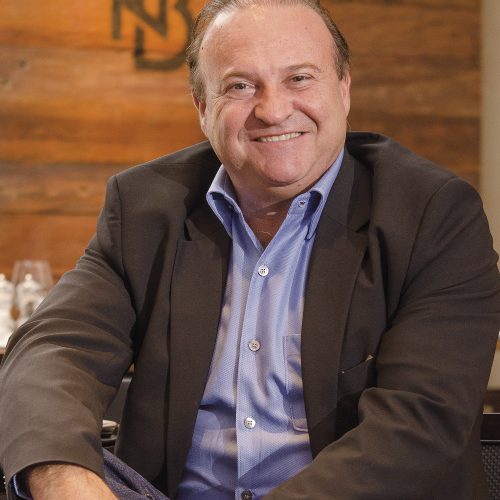 With more than 40 years of expertise in the food industry, this entrepreneur has established the restaurant sector by investing in barbecue and pizza establishments in NB Steak and Maremonti.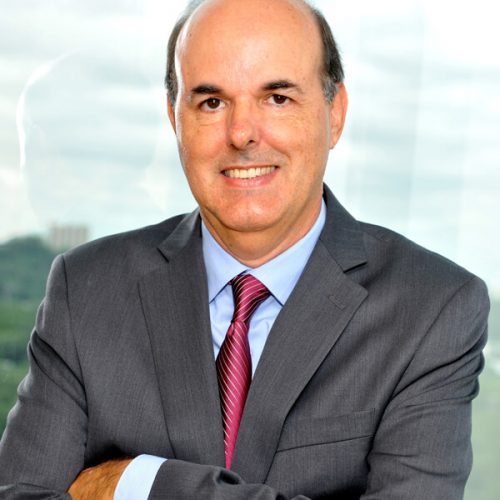 Chemical engineer, masters in Environmental Engineering from UNICAMP. Extensive experience in chemical industries (Monsanto and Shell) and food segments (Nestle). Responsible for Tetra Pak global environmental area based in Lund, Sweden. Environmental Director of TetraPak in Latin America, developing recycling technologies for materials such as thermal plasma reactor. Chairman of CEMPRE for two terms, Corporate Commitment to Recycling. Secretary of State for Environment in São Paulo in 2017. Currently head of EnviroPartners, specializing in corporate sustainability.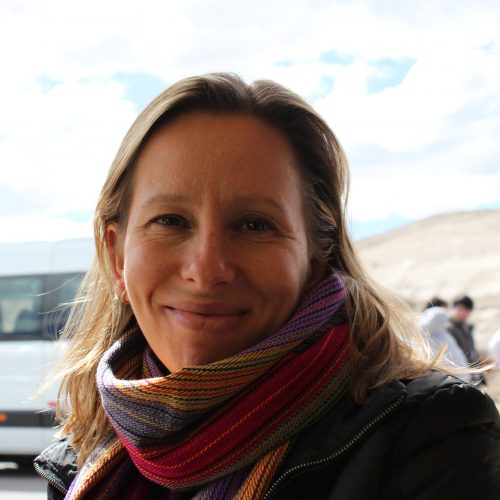 Bachelor's degree in Law from Mackenzie University, major in Environmental Law from COGEAE PUC/SP, master´s degree in Political and Economic Law with emphasis on Climate Change from University of Mackenzie. Assistant professor for the course Climate Changes in Environmental Law Specialization at COGEA PUC/SP. In Onçafari, Marina is responsible for the association´s legal affairs.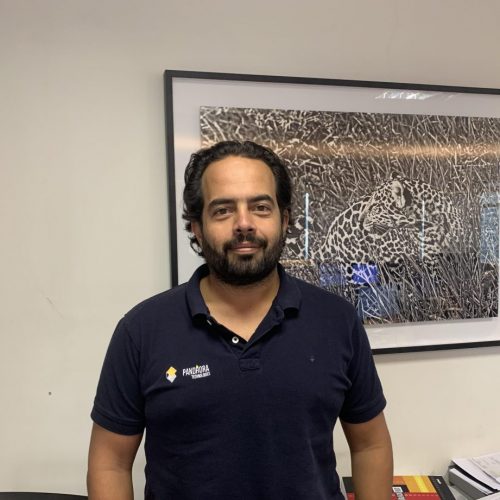 - Founder of Jaguar Maintainer Santa Rosa
- Advisor to SOS Pantanal
- Advisor for the protection and conservation system of Serra do Amolar
- 16 years of experience in value Investing
- Founding partner and manager of Trilha Investimentos (2013–present)
- Founding partner of Pandhora Technologies (2016–present)
- Worked as Trainee in Skopos Resource Administrator (2007) and senior business analyst in DEC Investments (2003–2013)
- Licensed administrator by CVM and certified by CGA (ANBIMA)since March 2010
-Bachelor's degree in Economics from FAAP (2007) majoring in Capital Markets USP/ Fipecafi (2008)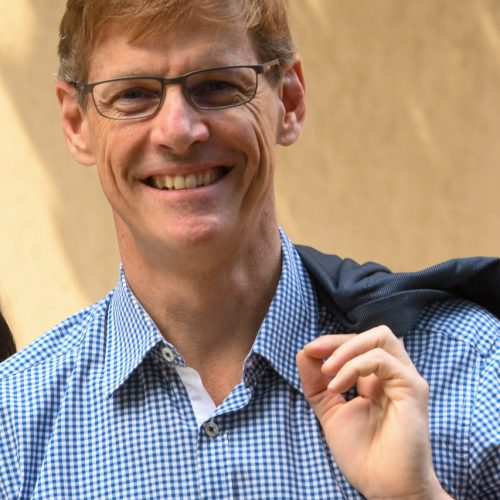 Bobby has a European background but is born and raised in Brazil. He graduated in Hotel Management in Switzerland and an Caiman lodge for 5 years where his passion for nature became an important value in his life. After the Pantanal, Bobby tab corporate hotels before founding MATUETE, a high end travel company in São Paulo, back on 2001.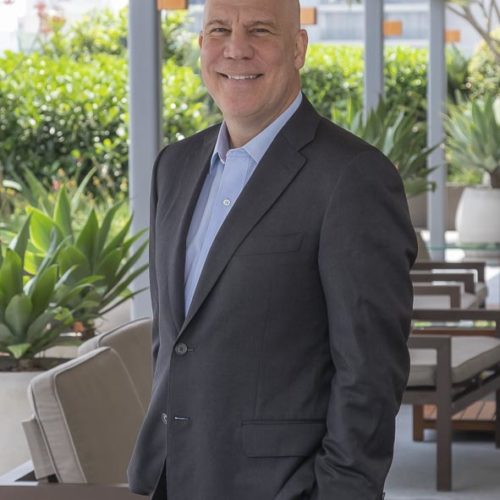 Robert Kozmann Jr. has 28 years of experience working in the banking industry in Sao Paulo, Frankfurt, London and NY. Is currently working as Chief Operational Officer for Latin America for one of the major US Banks based in New York. Prior he was Chief Financial Officer for Emerging Markets.
Currently he serves on the board of several nonprofit organizations. He also participates in many volunteer opportunities such as running with disabled athletes, including three NYC marathons, and building houses for underprivileged neighborhoods as well as in many environmental initiatives.
In his current role he also co-chairs several committees and forums in Latin America including the Environmental, Social and Governance Committee, Reputational Risk Committee and is also member of the Latin America Executive Committee.
Robert holds a bachelors degree in both finance and macro economics from the Faculdade Armando Alvares Penteado in São Paulo. He also completed the Security Industry and Financial Markets Association (SIFMA) three‐ year course at Wharton University.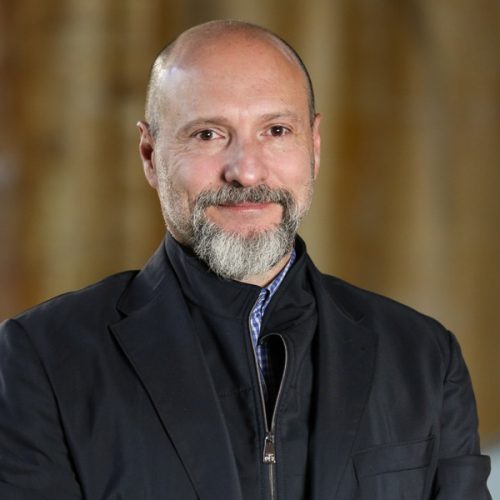 Bachelor's degree in Law from USP, involved in the environmental movement since 1977. Founder of several NGOs, such as SOS Mata Atlântica, for which he was acted as chairman for 22 years.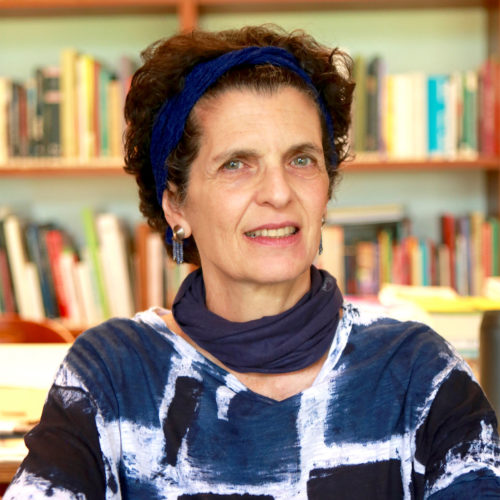 Teresa Cristina Ralston Bracher spent most of her childhood at her family's farm, in the countryside of São Paulo state, where she first became passionate about nature. In 2005, she fulfilled an old dream and acquired her first farm, where she could focus on her main vocation: environmental preservation. She's the founder of Acaia Pantanal, a social organization with the mission to contribute to human and social development in the Pantanal. She took part in an articulation that resulted in the acquisition of Santa Sofia Farm, a 33 thousand hectares area that was also at imminent risk of deforestation. Teresa is on Onçafari's board, where she contributes with all her knowledge acquired in more than fifteen years of intense dedication to the preservation of the Pantanal.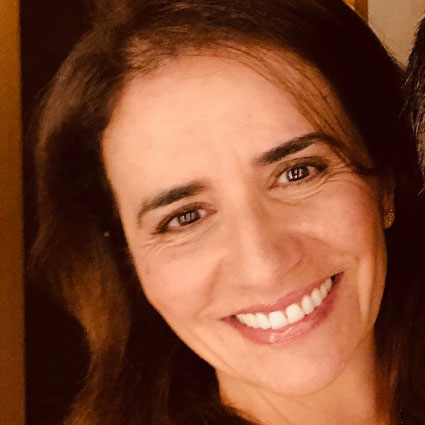 Lilian Marques Esteves holds a degree in Computer Science from Universidade Federal do Rio de Janeiro. Currently managing her family business, she is responsible for Romanof Ltda, a private Real Estate holding company in Brazil. She is the chair of Argiano Società Agrícola's Board of Directors and has a leadership position at Agropecuária Santana Do Deserto. She began her career as a systems analyst at Varig Viação Aérea Rio-Grandense and afterwards she held several roles in software development in local companies. In 2015, she took the Harvard Business School HBX Core and, in 2018, the Financial Times Non-Executive Director Diploma program. Lilian is deeply interested in environmental causes and has been in Conservation International's Brazil Consulting Council since 2012. In February 2020, she became an effective member of Estapar's Board of Directors as well as part of the Board for an ambitious philanthropic project in technology education: Inteli - Instituto de Tecnologia e Liderança. She has recently joined the board of directors at Onçafari and at SOS Pantanal.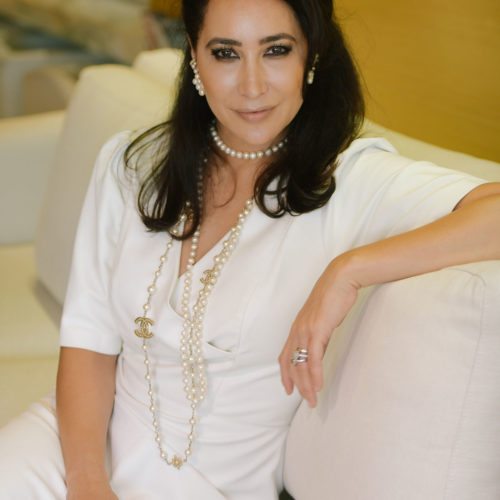 Raquel Machado is a dermatologist, from Minas Gerais state, based in capital of São Paulo, a conservationist, animals and nature defender of the rights. She founded a maintainer legalized by IBAMA in 2010, in the municipality of Porto Feliz, in São Paulo state, to protect and shelter wild animals that are victims of trafficking and mistreatment. She is responsible for the management of the area, partnerships establishment, fundraising and institutional interfaces. She is currently President of the Raquel Machado Institute, with the mission of promoting the Brazilian wildlife conservation of through responsible management, rehabilitation, release in nature and environmental education aimed at trafficking and hunting inhibiting, in addition to acting in the protection of natural and recovery of degraded areas. She started to act directly with private lands conservation. She acquired two areas in the Ministry of Health, both private reserves of natural heritage (RPPN) for protection, research, visitation and environmental education - one located in the Atlantic Forest (RPPN Saci), and another in the Cerrado (RPPN Santuário), contributing to the protection of the greatest possible diversity of environments. She is part of the largest private conservation project in the country, Santa Sofia in the Pantanal . She is advisor of the Neotrópica do Brasil Foundation, SOS Pantanal and Onçafari Project.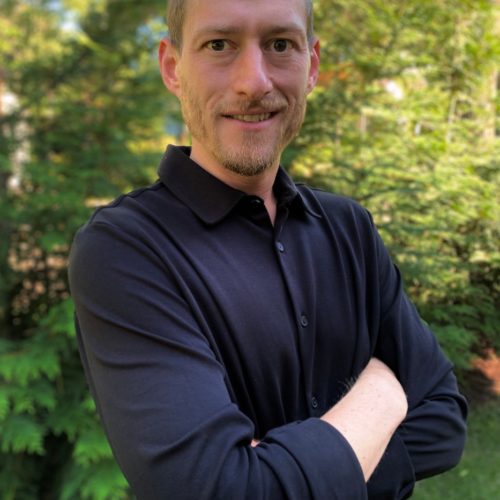 CEO of Vivae, a training company, focused on continuous education and employability. Holds ample experience in edtechs, working in Pearson and Casa do Saber, as well as being a business manager for companies like Dell, McDonald's and Kimberly-Clark. Alexandre has a degree in Business Administration and Economy, by Mackenzie University and a postgraduate degree in Marketing, by UC Berkeley.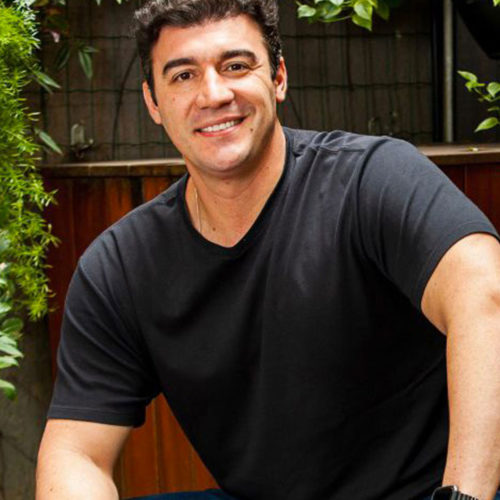 Ivan Martinho is a business administrator graduated in FAAP, with postgraduate by ESPM, MBA by Fundação Dom Cabral and extension in Kellogg School of Management, in Chicago. His career includes works for Ambev, Vivo, Michael Page, T4F (Time for Fun), Traffic Sports where he was responsible for the business sponsoring unit, media Rights and sports properties, having direct experience in events as the Brazil Cup, Confederations Cup 2013, World Cup 2014, America Cup 2015 and Rio Olympics 2016. Held the CEO position of Flix Media, the largest media company Cinema da América Latina belonging to Cinemark, was VP of AdSales for the channels Fox, Fox Sports and National Geographic and in the last 3 years held the CEO position of WSL (World Surf League) for Latin America. Ivan is also a post graduate teacher in the Sports Marketing course from ESPM, Ibmec-RJ and CBF Academy, a mentor in ArenaHub, adviser in MIBR, in FanBase and in NGO Onçafari, column writer in Máquina do Esporte, creator and host of Podcast Patrocinei! besides co-founder of Instituto Pequenos Grandes Guerreiros.
Supervisory board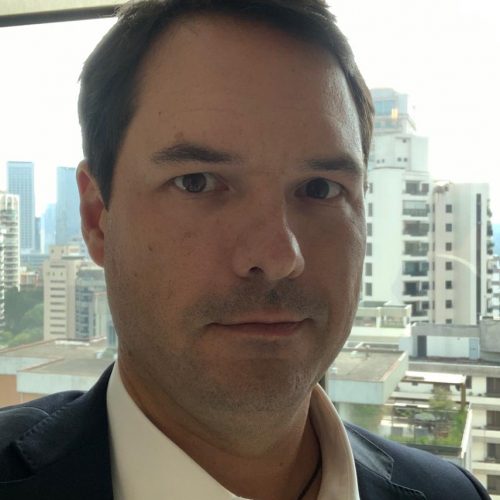 Financial Market professional with 20 years of experience in institutions such as JP Morgan, Merrill Lynch, Santander, BR Partners, and Bank of America. Current and/or former performance in controllership, risk management, compliance, operating manager, and protection against money laundering. Before being part of Onçafari Counsil, Rafael was a volunteer in Laje Viva Institute, a protection organization of marine life in Laje de Santos. He also worked as an underwater photographer in Mantas do Brasil Project.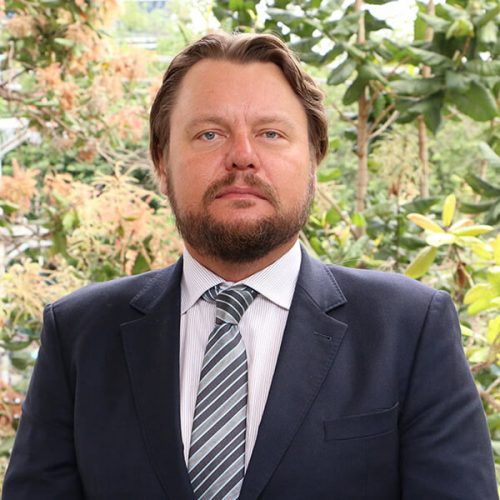 Bachelor's degree in law from University of São Paulo and German Law with emphasis on International Taxation by Albert Ludwigs de Freiburg (Albert-Ludwigs-Universität Freiburg). High performance in consultative matters (law contracts and tributary planning) and litigation. Acknowledged for his strong support to Brazilian multinational companies in investment phase, as well as large corporations in the IT sector. Founding partner of Bazuna, Ruschmann, and Soriano law office –BRATAX ( law firm with tax expertise).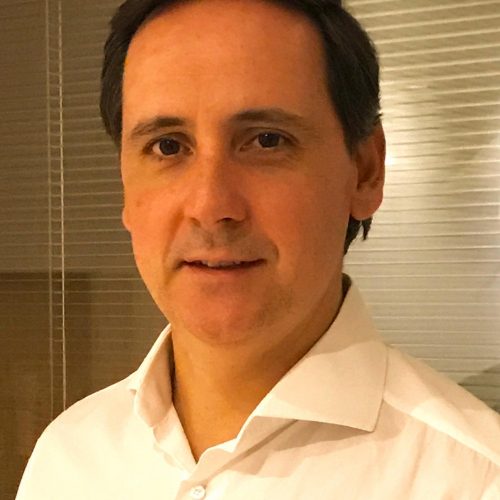 26 years of working experience in the Finance area, as a trader, finance director and financial advisor.
Vast experience in banks treasury department area, worked as a trader for 2 foreign banks, Citi and Banco Santander, assisting corporate client's close treasury operations such as: investing, hedging, loans, foreign exchange and trade finance.
15 years of experience as Finance Director/CFO (from 2001 to 2016) of large corporations: Huawei Technologies, ZTE Technologies and Mitsubishi/Suzuki Motors.
4 years of experience in the global wealth management area being a license advisor in Brazil and US.
Business Administrator, graduate of FAAP University of Brazil.
Holds 2 FINRA (Financial Industry Regulatory Authority) license certifications to work in the US securities industry: SIE (Securities Industry Essentials) and Series 7 (Registered Representative)
Hold an ANCORD (Brazilian FINRA like entity) license certification: AAI (Agente Autonomo de Investimentos) license to buy and sell securities in the Brazilian Financial Market.
Member of CREA-SP Conselho de Administração de São Paulo
Volunteer Fiscal Board Member since 2017 of Oncafari Project,